"Its a prototype, it's not meant to be sexy."
This article is a stub. Please help the Anomaly Research Centre by expanding it. Thanks!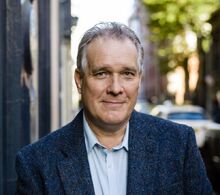 Chris Wilson played a Traffic Warden in Episode 3.1.
Chris Wilson from Brighton East Sussex was for many years a Muscian (Bass Guitar) touring the world with various Bands and in backing bands for various comedians. He now appears in many films and TV programmes playing a variety of roles,
has amassed considerable experience on both sides of the camera, He is now  a Walk On Artist or Stand In / Body Double (for a Number of "A" list Actors & Presenters) Voice Over Artist, Assistant Director or Supporting Artist. http://www.starnow.co.uk/media/500618
http://www.starnow.co.uk/christopherw33618
http://www.imdb.com/name/nm2711324/
https://harrypotter.fandom.com/wiki/Christopher_Wilson
https://midsomermurders.fandom.com/wiki/Chris_Wilson
http://www.flickr.com/photos/chris-wilson/3473928541/

Partial CV www.imdb.com/name/nm2711324/
Stand In / Body Double CV www.uk.filmcrewpro.com/view.php?uid=242553
Photo Selection www.flickr.com/photos/29552517@N08/page2/
Facebook www.facebook.com/#!/profile.php?id=577523216
You Tube Channel www.youtube.com/user/CHRISWILSONXX1X?feature= mhum [1] codestimed
Community content is available under
CC-BY-SA
unless otherwise noted.